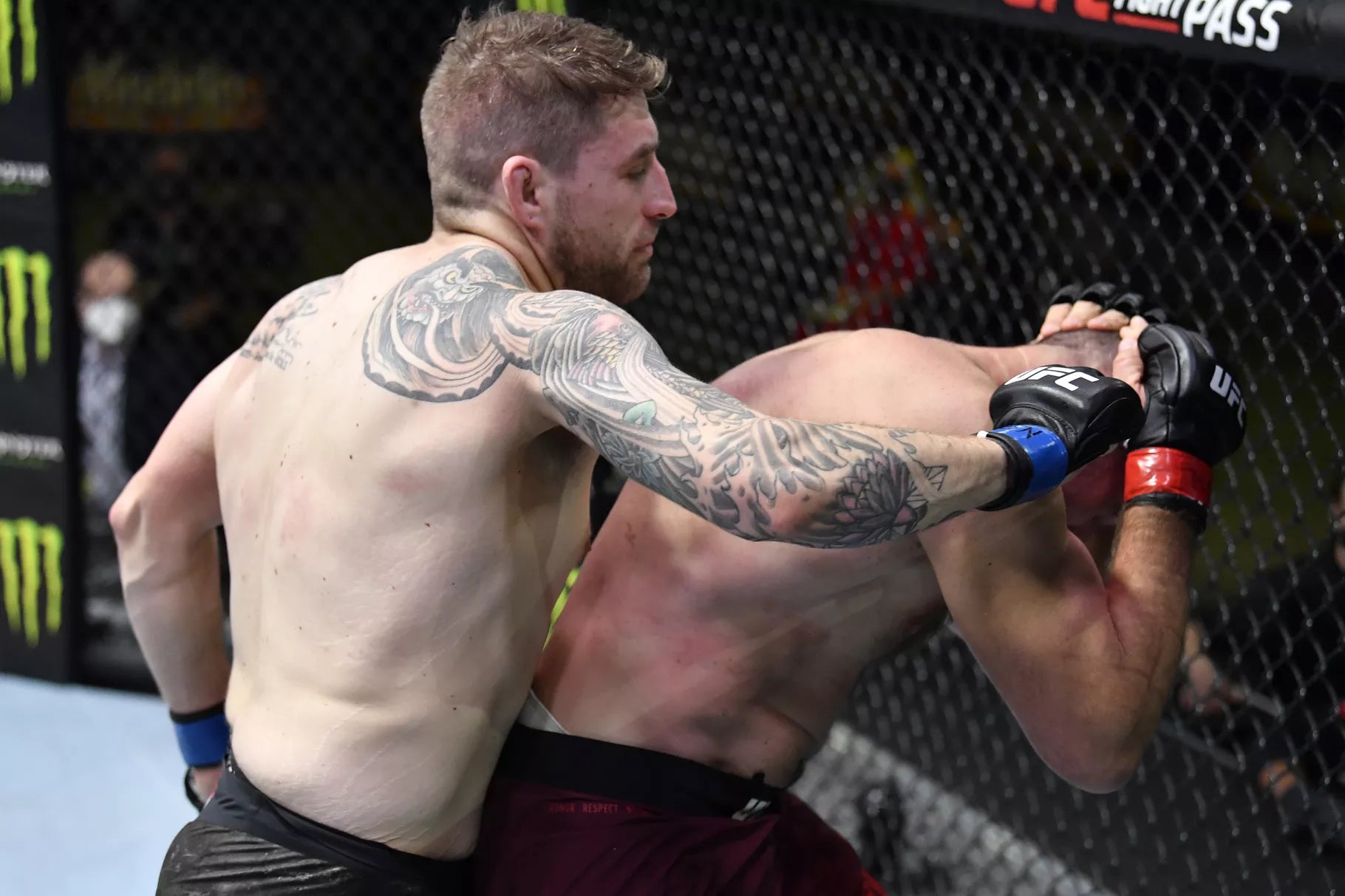 Another knockout victory! Few Will Hunt Ambassador Chris Daukaus bombards Oleinik at UFC Vegas 19
3 UFC fights and 3 KO/TKO wins! Congratulations to our very own Chris Daukaus for yet another explosive first-round victory at UFC Vegas 19.
As per normal, Daukaus wasted no time and executed his attack plan against top 10 ranked opponent in Aleksei Oleinik. Daukaus finished his opponent at 1:55 in the first round after blitzing him with punches against the cage.
Join us in congratulating Chris on his victory and celebrating his hard work. Follow his exciting journey up the UFC's heavyweight ladder on his Instagram. Also, be sure to check out Chris' team on Instagram at Martinez BJJ (www.martinezbjj.com) and Powered By Pohler (www.poweredbypohler.com).
POURING IT ON! 💥@ChrisDaukausMMA gets an early TKO victory in RD 1! #UFCVegas19 pic.twitter.com/V96QbLmwlr

— UFC (@ufc) February 21, 2021
From mmafighting.com:
Chris Daukaus has three first-round finishes in the octagon but none bigger than his TKO against a top 10 ranked opponent in Aleksei Oleinik on Saturday night at UFC Vegas 19.

The heavyweight, who is also a full-time police officer when he's not fighting, escaped an early takedown attempt from the Russian and then absolutely battered him with punches including a barrage of machine-gun fire like shots against the cage that led to a stoppage from referee Herb Dean.

The end came at 1:55 in the first round.

"This is exactly what I planned for," Daukaus said after moving to 3-0 in the UFC. "Aleksei's a legend, there's a reason he's a legend like that. It was that quick right hand. Figured out I caught him. Just punching, punching, punching."

As soon as the fight started, Oleinik closed the distance, pushing Daukaus against the cage and then did everything possible to drag him to the ground. Oleinik even attempted to pull guard but Daukaus refused to go down.

Once the fight got back to the feet it was all Daukaus as he cracked Oleinik with a stiff right hand and that really was the beginning of the end.

With Oleinik on wobbly legs, Daukaus just pressed forward with fast combinations that largely went undefended until he had his opponent trapped against the fence. From there, Daukaus just kept firing punches until it was clear Oleinik wasn't going to escape and the fight was finally over.

Daukaus has been an impressive addition to the UFC's heavyweight division and with this latest win, he's just looking to climb up the ranks with a fight against the next best guy ahead of him.

"Whoever's in front of me," Daukaus said when asked about a future opponent. "It doesn't matter to me."
origin
Co-founders Drew and Joey were frustrated with what they saw as a growing sense of entitlement and a desire for shortcuts in society. It seemed like people were no longer valuing the power and dign...
Read more